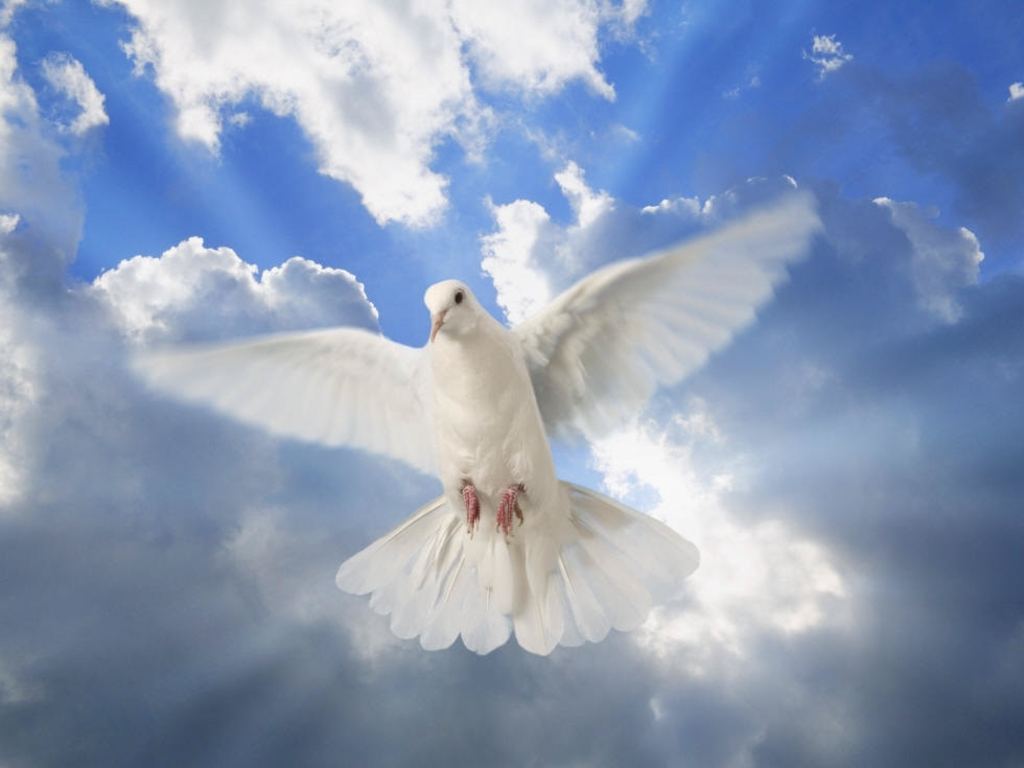 Dove Rescue
Count Zinzendorf and the Dove.
COUNT ZINZENDORF was a great
German noble, and lived to do a
great deal of good in the world.
When a boy, he was one day
playing with his hoop near the
banks of a deep river, which flowed
outside the walls of a castle where
he lived, when he espied a dove struggling
in the water. By some means the poor little
creature had fallen into the river, and
was unable to escape. The little count
immediately rolled a large washing-tub,
which had been left near, to the water's
edge, jumped into it, and, though generally
very timid on the water, by the aid of a
stick, he managed to steer himself across
the river to the place where the dove lay
floating and struggling. With the bird in his
arms, he guided the tub back, and reached
the land in safety.
After warming his little captive tenderly
in his bosom, the boy ran with it to the
wood and set it free. His mother, who
had watched the whole transaction from
her bedroom window, in trembling anxiety
for his safety, now came out. " Were you
not afraid?" she asked. "Yes, I was,
rather," answered the boy; "but I could not
bear that it should die so. You know,
mother, its little ones might have been
watching for it to come home!"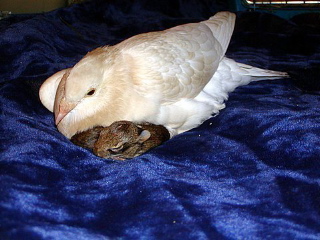 Dove Caring
He will cover you with His feathers
And under His wings you will find refuge.
Psalm 91:4
How we treat the weakest among us is how we will be judged.....
These little bunnies, about 6 days old, were attacked by a dog and orphaned.
Two out of the litter of five did not survive, and these three were not doing very well.
Noah is a non-releasable, one-legged homing pigeon/rock dove that is in the rehab centre.
Noah kept going over to the bunny cage and looking in -- even sleeping in front of the door to the cage.
Then, suddenly, there were only two bunnies in the cage.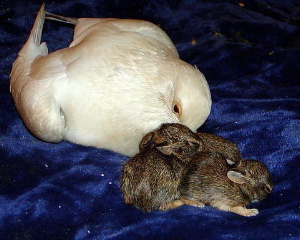 But when Noah moved a bit from the front of the cage to everyone's surprise... there was the tiny bunny... under Noah's wing... sound asleep!
That little bunny rabbit had crawled through the cage, preferring a featherbed, no doubt to snuggling up with its littermates!
Now, they are all together and the bunnies are doing GREAT. When the bunnies scoot underneath Noah's feathers,
he carefully extends his wings out to surround them and then they snuggle.
When one of them moves and they start sticking out here and there, he gently pushes them back under him with his beak!
It is beautiful and amazing to see...
This is what God does with us when we need the warmth and love He offers.
He gathers us under His loving wings to a warm cradle of protection.
All we need do in return is give Him the thanks and praise for being with us.
We knew there was something special about Noah the moment we saw him.
Although the bunnies seem to be his favorite, Noah helps out with many rescue babies here at the Wild Rose Rescue Ranch...
Noah's first litter of bunnies, almost raised and ready for release.
Now, Noah helps out with many rescue babies here at the ranch...
How wonderful it is to have a full-time soft-feathered nurturer here at the rescue ranch!
He cuddles with all the babies as they snuggle under his warm feathers...and he "coos" as if singing them to sleep with a lullaby.
Noah is truly, truly a God-send.
He will cover you with His feathers
And under His wings you will find refuge.
Psalm 91:4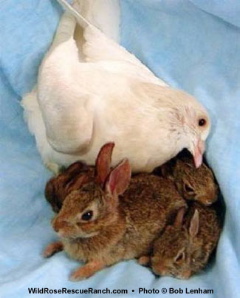 THE CONSTANT DOVE.
THE white dove sat on the sunny eaves,
And "What will you do when the winter wind
grieves?"
She said to the busy nut-hatch small,
Tapping above in the gable tall.
He probed each crack with his slender beak,
And much too busy he was to speak;
Spiders that thought themselves safe and sound,
And moths and flies and cocoons he found.
Oh, but the white dove, she was fair;
Bright she shone in the autumn air,
Turning her head from left to right;
Only to watch her was such delight!
"Coo," she murmured, "poor little thing,
What will you do when the frost shall sting?
Spiders or flies will be hidden or dead,
Snow underneath and snow overhead."
Nut-hatch paused from his busy care;
"And what will you do, O white dove fair? "
"Oh, kind hands feed me with crumbs and grain,
And I wait with patience for spring again."
He laughed so loud that his laugh I heard;
"How can you be such a silly bird?
What are your wings for, tell me, pray,
But to bear you from tempest and cold away?
"Merrily oft to the South I fly,
In search of the summer presently,
And warmth and beauty I'll find anew;
Why don't you follow the summer, too?"
But she cooed content on her sunny eaves,
And looked askance at the reddening leaves;
And grateful I whispered, "O white dove true,
I'll feed you and love you the winter through!;
Celia Thaxter.